Have you been standing or walking around for ages and even your comfortable shoes are not helping? Your back hurts , your legs hurt and your feet kill you ? You just want to sit down for a few minutes - but there is no chair in sight. So what can you do?
Here is the perfect solution
This innovative product is the best seat at home - on the sidewalk, on the campsite or wherever you want to sit - this stool is small, light and handy and can be carried like a bag.


The innovative interlocking structure can be folded into a small frisbee shape with a shoulder strap and, if necessary, unfolded into a tailor-made seat with a height of up to 47 centimeters . Robust and stable , can comfortably hold up to 160 kilograms , which makes it ideal for adults and children alike. Very low weight of only 900 grams!
... in 3 easy steps ...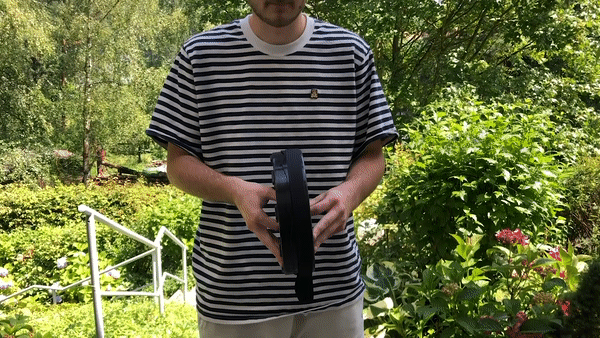 Step 1 : Place your thumb and forefinger in the two holes, both on the bottom and on the top. Simply use your fingers to twist the bottom and top in opposite directions as you pull the two halves apart.
Step 2 : As soon as you have extended your stool to the desired height, place the non-slip base on a stable, flat surface. Your stool is ready to use!
Step 3: After use, your stool can be folded up again exactly the other way around. You attach the top and bottom to each other and grab the handle strap. It was that easy.
Important: Always make sure that all slats snap into place correctly!
Application examples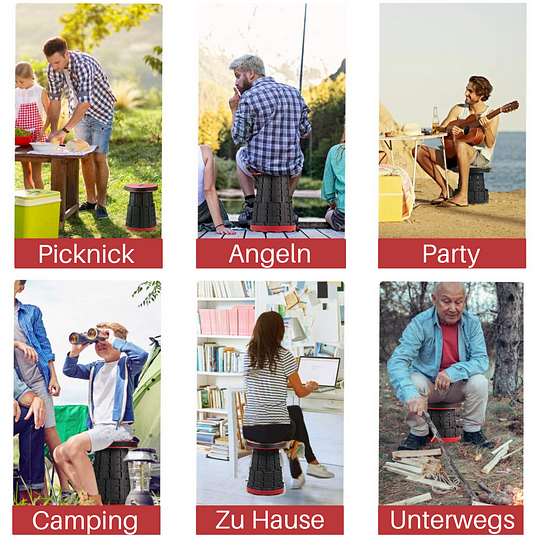 Convincing arguments for the stool


✔️ 2 year GUARANTEE: The stool is made of very high quality and robust parts and we trust the quality of this product 100%, so we can offer you a 2 year guarantee . ✔️ Can be flexibly adjusted to your height: With ten levels and interlocking panels, you can set the stool as low or as high as you want. ✔️ Easy to carry : With the low weight of a water bottle , this stool is very light and handy . The woven adjustable strap can be carried like a handle or extended to function like a handbag or shoulder bag.

✔️ High-quality and hard-wearing materials : high-impact plastic and smooth telescopic design minimize stress points for long-lasting weight pressure and even weight distribution. On the underside, TRP feet prevent slipping and wobbling, so that your stool stays in place.
✔️ Versatile: Whether at home, in the garden, in the workshop, on holiday at the campsite ... the area of ​​application is huge and varied . The stool can be used anywhere!
Specifications:
Maximum height: 47cm (retracted: 6cm)
Diameter: 25cm
Weight: 900g
Maximum weight load: 160kg
Material: High quality nylon + ABS plastic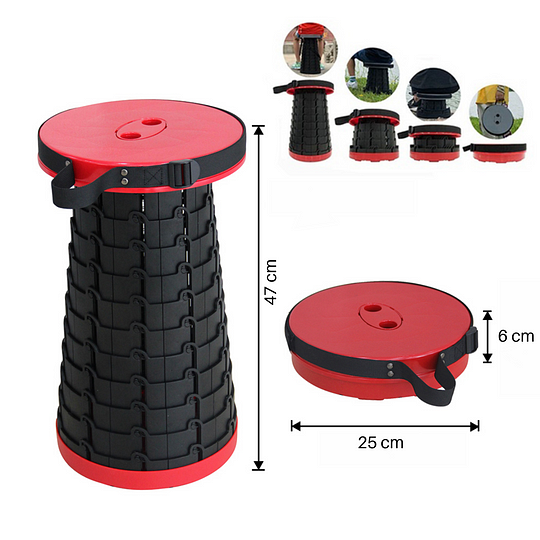 ✔️ Free shipping
✔️ 100% money-back guarantee - If you are not 100% satisfied with this product, just send a message and send it back to us. We give you a 6 month money-back guarantee - no ifs or buts! - Your money will be refunded within 24 hours. Why do we offer you such an offer without a catch? Quite simply because we are convinced of the product - otherwise we obviously couldn't make you such an offer. Our guarantee promise.